Sony's Lineup For E3 2013 Press Conference Highlights
Sony Reveals New Games and Playstation 4 Details At Tonight's E3 2013 Press Conference.
Time to shine Sony.
Sony had a strong showing tonight with its anticipated reveals during its live E3 2013 Press Conference. Because Sony kept many details of the Playstation 4 behind closed doors, it made for an exciting event as they closed the evening with a first look at their next-gen console. Sony also focused tonight's presentation on new games, showcasing numerous titles across the PS4, PS3, and PS Vita.
The games announced during Sony's E3 2013 Press Conference are listed in the order of the presentation. Exclusive titles will be noted.
Sony's E3 2013 Lineup:
Playstation 3
1.The Last of Us
2.Puppeteer
3.Rain, 2013 Fall release
4.Beyond: Two Souls, starring Ellen Page and Willem Defoe
5.Gran Turismo 6
6.Batman Arkham Origins, scheduled release October 25, 2013
7.Grand Theft Auto 5, exclusive bundle available September 17, 2013
Playstation 4
Game Lineup:
1.The Order 1886, new IP (PS4 Exclusive)
2.Killzone: Shadow Fall (available at PS4 launch, exclusive)
3.DriveClub (available at PS4 launch, exclusive)
4.Infamous: Second Son (Q1 2014 release, exclusive)
5.Knack (available at PS4 launch, exclusive)
6. The Dark Sorcerer, definitely humor in this game (PS4 exclusive)
7.Transistor (available early 2014)
8.Don't Starve (Independent, PS4 Exclusive)
9. Mercenary Kings (Independent, PS4 exclusive)
10.Octodad: Dadliest Catch (Independent, PS4 exclusive)
11.Secret Ponchos (Independent, PS4 exclusive)
12.Ray's The Dead (Independent, PS4 exclusive)
13.Outlast (Independent, PS4 exclusive)
14.Oddworld: New N' Tasty (Independent, PS4 exclusive)
15.Galaxy (Independent, PS4 exclusive)
16.Diablo III (PS3 and PS4)
17.Final Fantasy XV (Versus XIII)
18.Kingdom Hearts 3 (currently in development)
19.Assassin's Creed IV: Black Flag
20.Watch Dogs
21.NBA 2K14
22.The Elder Scrolls: Online (Spring 2014 release, beta will be exclusively available on PS4)
23.Mad Max
24.Call of Duty: Ghosts
25.Madden 25
26.FIFA 14
27.Destiny (available 2014)
Big News For Playstation 4:
Hardware Reveal
New exclusive content is promised for PSN and PS4, more details will be released in the future. On day one of the PS4 release, Music Unlimited will give users access to a catalog of more than 20 million songs, and Video Unlimited will provide users with the ability to own and rent more than 150,000 titles.
Sony is proud to announce that the Playstation 4 will support used games.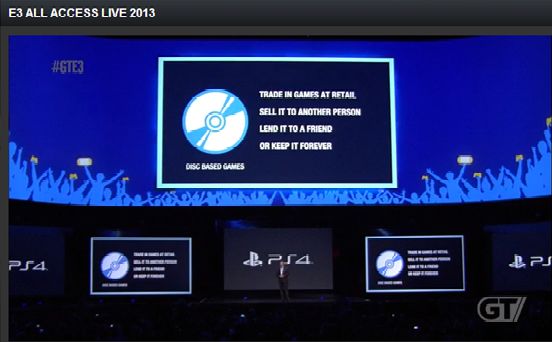 There will be no need to connect online to play and does not require you to check in online to be able to play. PS Plus membership will carry over to Playstation 4. Playstation's cloud service will be available in 2014, with immediate access to games, utilizing Gaikai technology meaning it will be fast and efficient.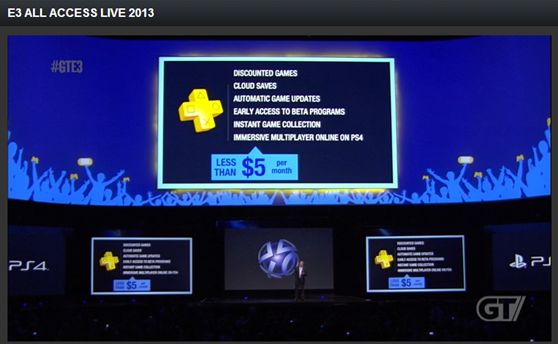 If you are going to be playing online, it will be restricted towards those with a Playstation Plus account. There is a monthly fee that is expected to be less than five dollar per month. As a bonus, Playstation Plus members will receive a PS Plus Edition of DriveClub during the first year of the PS4 launch.
You can enjoy this brand new console for only $399 this holiday season.